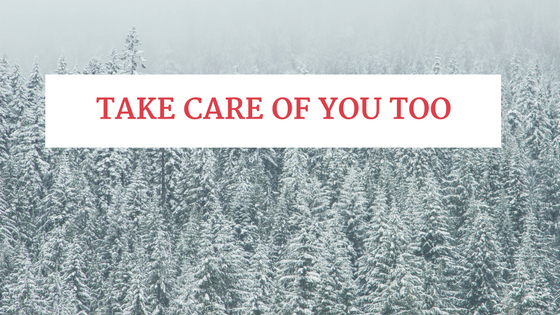 Winter is coming… no but it really is, and along with winter comes holidays and travel and busy and families and and and.... When do we have time to take care of us?
We need to make time. If you are a planner, scheduler, itinerary haver, then you need to make sure to pencil in some "me" time this season and make sure that you are taking care of you! 
If you need some ideas of some quick and easy tips to take care of yourself in the coming months, keep reading! 
We at times can be so worried about making this time of year special for others that we forget ourselves.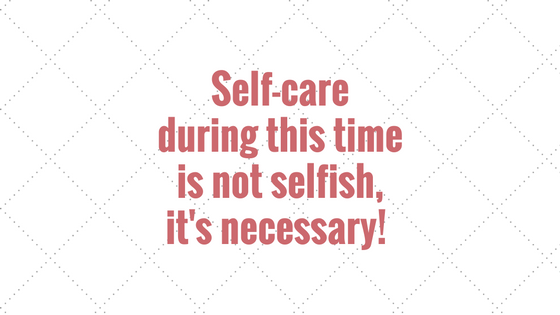 Here are 4 quick tips for self-care to get you through the end of 2016: 
1. Start each day with a positive thought and a moment of gratitude. When you get up in the morning, take a deep breath and think of one thing about your day that will be awesome. Then when you exhale, think of one thing you are thankful for. 
*Bonus points if you say them out loud or if you write them down!   
2. Use your creative juices for homemade gifts- this takes a few things off your list at once. It lets you reap the benefits of doing something for yourself which will in turn, help others! For example, if you love baking and it helps you to recharge, the baking could be your creative outlet. Then, the amazing pumpkin spice macaroons you make, become a tasty gift for someone on your list! Maybe you enjoy a glass of wine every once-in-a-day, save up those corks and do that awesome Pinterest craft you pinned but haven't gotten around to. Then, you'll be feeling pretty chill and someone special will be receiving a sick DIY cork gift from you! 
3. Moisturize (for real...winter skin = dry skin = itchy skin = grumpy you)  
4. Get your learn on, and enroll in one of the Relationship Goals Courses for 25% off from now until the end of the year. Go to Relationshipgoalscourses.com use promo code:SAVE25
However you spend these last weeks of the year, make sure to keep yourself toward the top of your own priority list!